Regular price
Sale price
$18.88 USD
Unit price
per
Sale
Sold out
OORAH!
This beautiful, high-quality wood sign is the perfect gift for any Marine or USMC veteran in your life. The hardwood material is sturdy and built to last, making it a nice addition to any home decor. The size of 3.5 inches x 12 inches x 3/4 inches makes it the perfect size for display on a wall or as a tabletop decoration. The keyhole on the back allows for easy hanging or shelf display. And, with a UV printed design, the natural grain and features of the wood are still visible from behind the design, adding to the overall craftsmanship of the product.
This wood sign is officially licensed by the United States Marine Corps, and each one is made by hand in the Great State of Tennessee. It's a great way to show your pride in your service or to honor a loved one who has served. Whether it's for Christmas, a birthday, Father's Day, or just because, this wood sign is sure to be a hit with any Marine or USMC veteran. It's a thoughtful and meaningful gift that shows you care.
But this wood sign is more than just a decoration, it also holds a special meaning to Marines and USMC veterans. The word "oorah" is a battle cry often used by Marines and USMC veterans to show their enthusiasm and camaraderie. It's a word that embodies the spirit and pride of the Corps, and is often used to boost morale and motivate troops. So not only is this wood sign a beautiful addition to your home decor, it's also a reminder of the brotherhood and loyalty that exists within the Corps.
For those unfamiliar with the term, the "crucible" refers to a grueling, 54-hour training exercise that all Marines and USMC veterans must go through in order to earn the title of Marine. The crucible is designed to test the physical and mental limits of trainees, and it is considered a rite of passage in the Corps. It is a time for Marines and USMC veterans to come together and support each other, and to prove that they have what it takes to be a member of the elite fighting force. This wood sign would make a great addition to any Marine's "crucible table," a space where Marines and USMC veterans display items that hold special meaning to them and pay tribute to their time in the Corps.
Looking for a gift for a co-worker or student who is graduating? This wood sign is the perfect choice. It's a nice touch for a graduation party or as a congratulations gift. And with fast delivery, you won't have to worry about receiving your order in time for the big day. So don't hesitate, add this OORAH wood sign to your cart today and give the gift of pride and craftsmanship to a deserving Marine or USMC veteran.
Are you a Marine or USMC veteran yourself? This wood sign is a great addition to your own home decor, or a nice way to show your pride in your service. It's a beautiful reminder of the bond that you share with your fellow Marines and USMC veterans, and the sacrifices that you have made for your country. So why wait? Order yours today and add some Marine Corps pride to your home or office.
View full details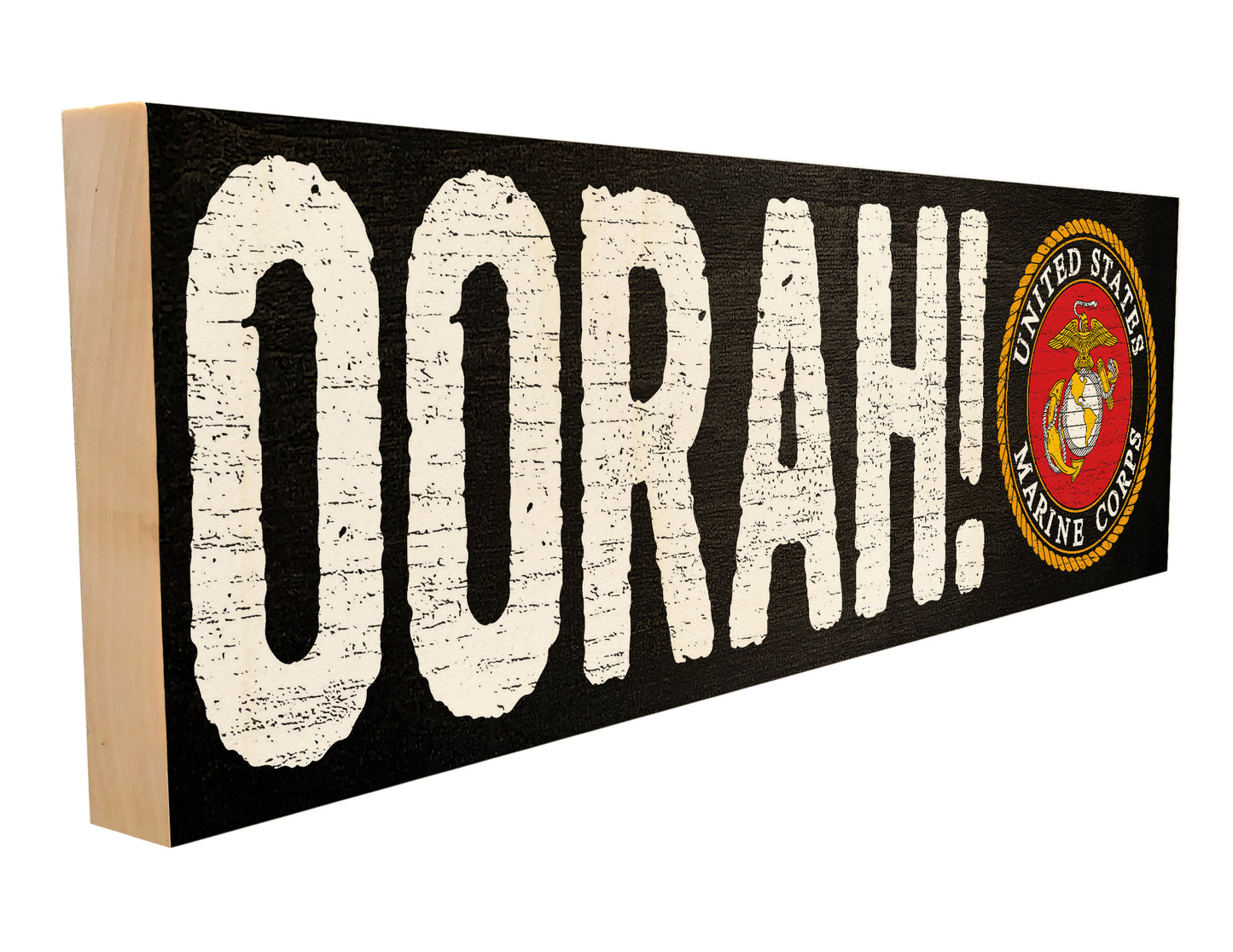 Sawyer's Mill
Made in America from the Roots up.
Free Shipping

Free Shipping on all orders shipping to the USA!

Free Shipping

Hassle-Free Exchanges

LOVE IT OR SEND IT BACK - It's pretty simple, love it or we'll gladly take it back. That's it!

Returns